The aim of this project is to experiment with a self-made USB stereo vision camera system to generate a depth-map image of an outdoor urban area (actually a garden with obstacles) to find out if such a system is suitable for obstacle detection for a robotic mower. The USB camera I did take (Typhoon Easycam 1.3 MPix) is very low priced (~12 EUR) and this might be the cheapest stereo system you can get.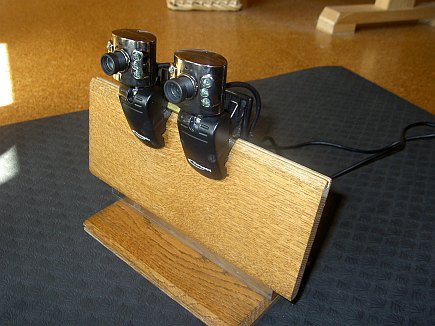 For the software, the following steps are involved for the stereo vision system:
1. Calibrate the stereo USB cameras with the MATLAB Camera Calibration Toolbox to determine the internal and external camera paramters. The following picture shows the snapshot images (left camera) used for stereo camera calibration.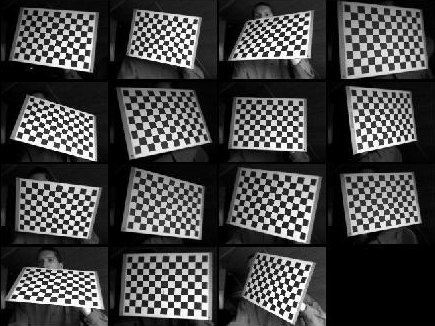 2. Use these camera paramters to generate rectified images for left and right camera images, so that the horizontal pixel lines of both cameras contain the same obstacle pixels. Again, the mentioned calibration toolbox was helpful to complete this task since rectification is included.3. Find some algorithm to find correlations of pixels on left and right images for each horizontal pixel line.This is the key element of a stereo vision system. There are algorithms that produce accurate results and they tend to be slow and often are not suitable for realtime applications. For my first tests, I did experiment with the MATLAB code for dense and stereo matching and dense optical flow of Abhijit S. Ogale and Justin Domke whose great work is available as open-source C++ library (OpenVis3D). Running time for my test image was about 4 seconds (1.3 GHz Pentium PC).4. Compute the disparity map based on correclated pixels.My test image: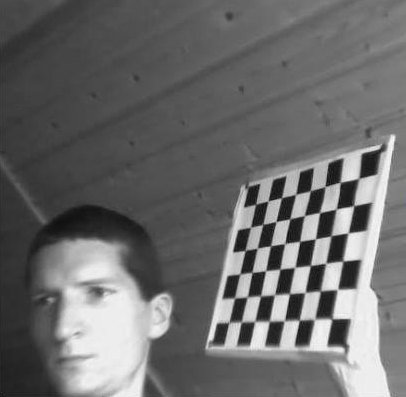 The disparity map generated (from high disparity on red pixels to low disparity on blue pixels):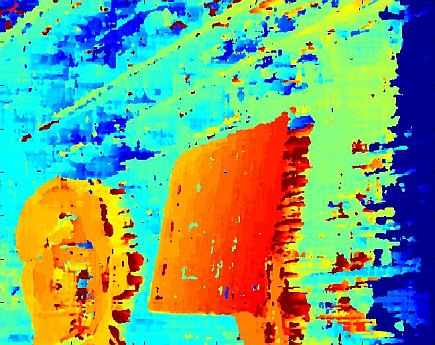 The results are already impressive – future plans involve finding faster algorithms, maybe some idea that solves the problem in another way. Finding a quick way to find matches (from left to right) in intervals between the left and right intensity scan lines for each horinzontal pixel line could be a solution, although it might always be too slow for realtime applications.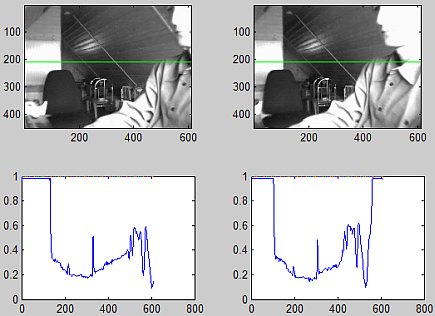 Update (06-17-2009):  I have been asked several times now how exactly all steps are performed. So, here are the detailed steps:
Learn how to use the calibration toolbox using one camera first. I don't know how to calibrate the stereo-camera system without the chessbord image (anyone knows?), however it is very easy to create this chessboard image – download the .PDF file, print it out (measure the box distances, vertical and horizontal line distances in each box should be the same), and stick it onto a solid board. Calibrate your stereo-camera system to compute your camera parameters. A correct calibration is absolutely necessary for the later correlation computation. Also, check that the computed pixel reprojection error after calibration is not too high (I think mine was < 1.0). After calibration, you'll have a file "Calib_Results_stereo.mat" under the snapshots folder. This file contains the computed camera paramters.
Now comes the tricky part 😉 – In your working stereo camera system, for each two camera frames you capture (left and right), you need to rectify them using the Camera Calibration Toolbox. You could do this using the function 'rectify_stereo_pair.m' – unfortuneately, the toolbox has no function to compute the rectified images in memory, so I did modify it – my function as well as my project (stereocam.m) is attached.Call this at your program start somewhere:
rectify_init
This will read in the camera parameters for your calibrated system (snapshots/Calib_Results_stereo.mat) and finally calculate matrices used for the rectification.
Capture your two camera images (left and right).
Convert them to grayscale if they are color:
imL=rgb2gray(imL)
imR=rbg2gray(imR)
Convert the image pixel values into double format if your pixel values are integers:
imL=double(imL)
imR=double(imR)
Rectify the images:
[imL, imR] = rectify(imL, imR)
For better disparity maps, crop the rectified images, so that any white area (due to rotation) is cropped from the images (find out the cropping sizes by trial-and-error):
imL=imcrop(imL, [15,15, 610,450]
imR=imcrop(imR, [15,15, 610,450]
The rectified and cropped images can now be used to calculate the disparity map. In my latest code, I did use the 'Single Matching Phase (SMP)' algorithm from Stefano, Marchionni, Mattoccia (Image and Computer Vision, Vol. 22, No .12):
[dmap]=VsaStereoMatlab(imL', imR', 0, Dr, radius, sigma, subpixel, match)
Do any computations with returned depth map, visualize it etc.
And finally, here's the Matlab code of my project (without the SMP code).