QS-909 JYQD
low cost brushless motor driver with direction and speed control
12~36V, 500W (with heat sink)
comes in two variants: 1) with motor hall sensor input and 2) sensorless
1) with motor hall sensor input (module can be purchased here)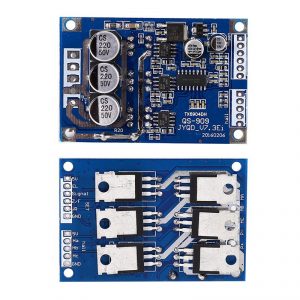 2) without motor hall sensor input (sensorless):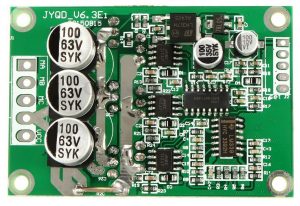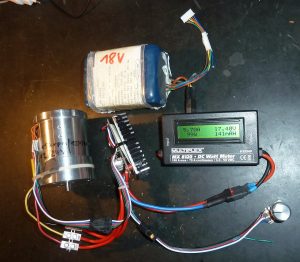 The principle of the two variants of JY01: First is sensorless and second one uses motor hall sensor inputs:
JY01 is the brushless controller IC
IR2101 are used for high- and low side MOSFET drivers
NCE6690 are used for N-channel MOSFETs
On some variants no motor hall sensors are required and the EMF detection is performed via differential comparators (LM339) by measuring the voltage drops of the 'free' phase in a motor step.
QS-909 JYQD wiring / pinout

CON4: Connect EL (motor enable) to 5v, Z/F to 5v (foward direction). Connect a 10k potentiometer for speed control (pins: 5v, VR, GND)
5v       5v output
EL       Motor enable input (5v)
Signal   speedometer output
Z/F      forward/reverse control (5v/GND)
VR       speed control (0..5v)
GND      ground
CON5: Connect your motor hall sensor outputs to Ha, Hb, Hc, connect your motor hall sensor module to 5v and GND.
5v    5v output
Ha    motor hall sensor input phase 1
Hb    motor hall sensor input phase 2
Hc    motor hall sensor input phase 3
GND   ground
NOTE: When connected, the motor hall sensor outputs (Ha, Hb, Hc) should toggle between 5v and 0v (GND) if you move the motor manually with your hands. If those signals are not completely getting down to 0v, your motor hall module already uses pull-up resistors and you may have to remove the QS-909 pull-up resistors (you can find the three resistors directly near the hall sensor connector).
OUT: Connect battery to P+, P-, connect brushless motor to MA, MB, MC.

P+   voltage input
P-   ground input
MC   motor output phase 3
MB   motor output phase 2
MA   motor output phase 1
Note: if driving 60 Watts or more, use a heat sink for the MOSFETs with insulation sheet between MOSFETs and heat sink, so MOSFETs do not short-circuit.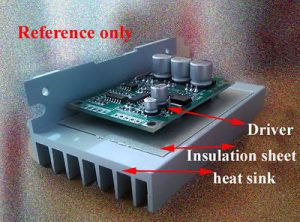 Troubleshooting
Motor does not start to move: Verify correct order of motor output phases (MA, MB, MC)
Motor only moves a micro step, then stops: Verify correct order of motor hall sensor outputs (Ha, Hb, Hc). Ensure these signals toggle between 5v and 0v (GND) when moving the motor manually with your hands. If the signals are having issues getting down to 0v, remove the three pull-up resistors on brushless controller board (see notes further above)
MOSFETs are getting hot: use a heat sink with insulation sheet between MOSFETs and heat sink (see further above)
Motor controller simulations
Online simulation of a motor controller (cascaded position and speed control)