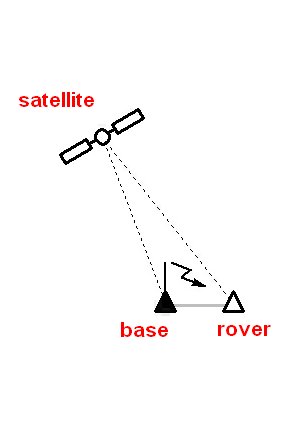 The earth ionosphere leads to reflections of the satellite signal, and that changes (increases) the time-of-flight (ToF) of the signal leading to error-prone distances (wrong measurements) at the GPS receiver.
The solution to this problem is relative measurement (differential GPS): measuring time-of-flight at a 1st near-by static GPS receiver (the 'station') and then using the time difference of the 2nd GPS receiver (the 'rover') measured time-of-flight to compute the relative distance to the static receiver (see above triangle).

Requires:
2x RAW output capable GPS receivers
example:

SkyTraq NS-HP (S2525F8-RTK,  update rate 1 Hz, can even run RTK without RTKLIB software simply by sending GPS receiver 1 RAW output to GPS receiver 2 RAW input! – around 50 EUR)
        
SkyTraq 1315F RAW (update rate 20 Hz –  eval kit around 100 EUR)
UBlox LEA4T (update rate 10 Hz –  ready module around 30 EUR)

2x active GPS antennas (example: Tallysman TW2710, TW3440, Sokkia GSR1700 CSX, Trimble Bullet III 3.3V – on the roof, a simple patch antenna can work as well)
Wireless infrastructure (Wifi, XBee, Zigbee, GSM, …)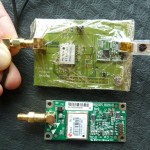 GPS signal:
ordinary GPS receivers use C/A code to measure position – a C/A code chip is roughly 300 meters
RAW receivers can count carrier cycles – each carrier cycle has a wave length of 19cm
The RAW GPS signal contains for each ranging measurement:
Pseudo random noise code number (PRN code)
Distance in meters (aka pseudorange)
Accumulated carrier (number of L1 cycles)   [ signal phase? ]
Doppler frequency (Hz)
1. Find the base station position (Lat/Lon/Height)
Measure position for 12-24 hours and write down the final position – RTKNAVI options:
Input streams:
Rover: Choose port and baud rate
Station: none
2. Compute precise rover position using realtime DGPS
RTKNAVI options:
Input streams (both Rover and Base Station):
Serial: Choose port and baud rate
Cmd: Choose load -> rtklib_2.4.2/data/skytraq_raw_20hz.cmd   (file will set SkyTraq receiver to 20 Hz)
Settings 1:
Positioning Mode: Kinematic
Elevation Mask / SNR Mask: 35
Settings 2:
Min Ratio to Fix Ambiguity: 1.0
Positions:
Base Station: Enter your base station position (Lat/Lon/Height)
Checklist for good results:
always check RTKLIB 'Error/Warning' window
SNR should be around 50
antennas should have a ground plate (70cm x 70cm)
test using sky view (no buildings)
Screenshots:
static 10 minutes test ('rover' GPS not moving)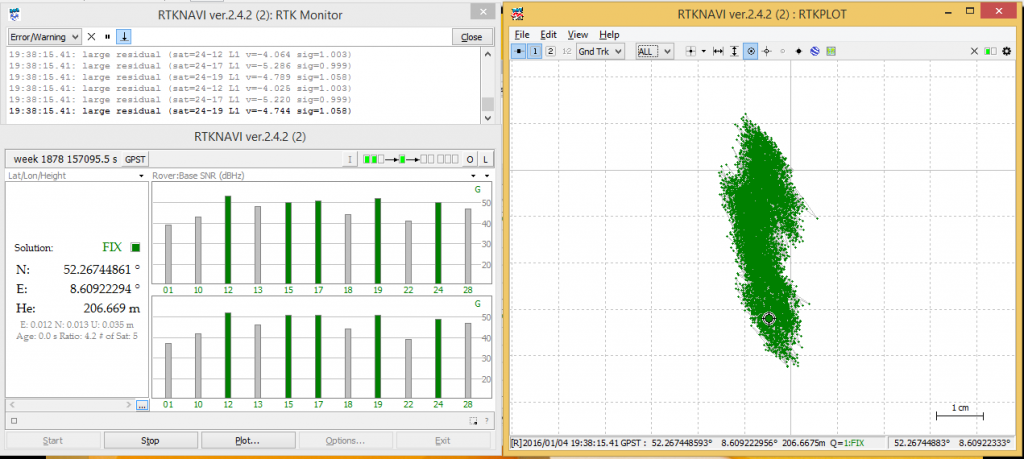 3. Garden test ('rover' moving in a 20cm rectangle pattern)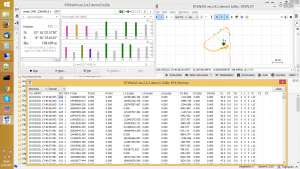 4. Set-up your own RTCM base station
Some low-cost receivers (e.g. ublox 4/5/6/7/8) support DGPS input (RTCM protocol). Can you use RTKLIB to setup your own RTCM base station? Please let me know…
5. Set-up low-cost GPS receiver to receive DGPS signal (RTCM protocol)
Some low-cost receivers (e.g. ublox 4/5/6/7/8) support DGPS input (RTCM protocol). ublox receivers support RTCM 2.3 (message types 1,2,3,9).
This allows you to send DGPS signal to your low-cost GPS receiver:
5.1 Install 'Serial Splitter' (Eltima) to split 1x COM port into 2x COM ports
5.2 Run 'STRSVR.exe' (RTKLIB) and choose:
Input: NTRIP Client (enter server, port, mountpoint, user-id, password)
Output: Choose 1st serial port (and baud)
Optionally: Activate convertersion (RTCM protocol version)
Press 'Start'. Now your GPS-receiver will receive DGPS data.
5.3 Run ublox u-Center and connect to your GPS receiver via 2nd serial port:
Now your GPS receiver should output DGPS data: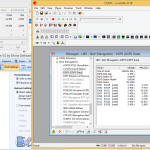 Further information
RTCM message examples (typical NTRIP messages and what messages typical receivers understand):
Bochum (RTCM2) sends: 1,18,19
[1]: corrections without phase
18: phases observations
19: distance observations
and ublox6 understands (RTCM2): 1,2,3,9
[1]: corrections without phase
2: delta-corrections without phase
3: reference station parameters
9: corrections without phase (partial)
—-
Dresden/Helgoland (RTCM3) sends: 1004,1006,1008,1012,1033
[1004]: observations incl. phase and SNR (L1+L2)
[1006]: reference station position and height
1008: antenna type
1012: GLONASS observations incl. phase and SNR
1033: antenna type
and Skytraq S2525F8-RT understands (RTCM3):
1002: observations incl. phase (only L1)
[1004]: observations incl. phase and SNR (L1+L2)
1005: reference station position
[1006]: reference station position and height